So I saved this little gal (I'll assume it's a girl :D) from the sharp, point clutches of the terrorist boy cat *insert evil music*.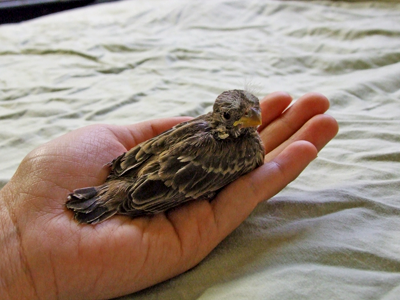 She doesn't seem to be hurt anywhere other than her left leg, which I think might be broken as she can't move it. She can only drag it along. She was awfully scared when I took her away from the cat and she let me hold her, as you can see in the picture. She fell asleep in my hand, but every time she closed her eyes, her head and her eyelids shook.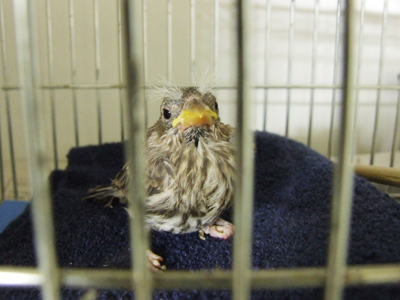 Now, I don't know a thing about birds. Nothing. Nada. The only times I had birds were when I was very young, and they died within two weeks of me having them, so I can be known as the bird killer. Not that I tortured them or killed them, just that I can't take care of them because ... well, I don't know a thing about them.

I'm was afraid this bird might die. She was very easy to handle, which was a sign she wasn't strong (due to the torture by the cat). But now, she won't even let me touch her, which I'll take as a good sign that she's a lot stronger. Her leg is still busted though, as you can kinda see in the second image. That's why I'm still able to catch her on occasion.

Is there anyone here that knows about birds that can give me some suggestions on how to take care of it? What are some signs it's unhappy, happy, thirsty, etc.? I was going to force feed her, but because she seems so much more alert now, I feel like she can feed herself if she's hungry. I left her seeds and water in her rat trap.

Yes ... *cries* ... my bird is currently in a rat trap. I did make sure it was safe for her to be in it though. I don't have any other cage for it! Like I said, I'm bad with birds so I don't keep any.

So if you know anything about taking care of them, please help! I only want to keep her for one or two days, or until she's able to set off on her own again without getting caught by the boy kitty (who hangs out in our backyard very very often).



Okay, here are two pictures of my mom's cherries. I forgot to post them.